Menu
Building their Future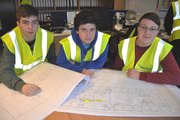 Three teenagers have been taking a break from their studies – to help oversee the building of their new school.
Once a week Jake Innes, Craig Alexander and Rowan Duncan leave the classroom for work experience on the construction site of the £29million Elgin High School.
It is only a short commute - for the replacement campus is going up right next door to the existing school where they are currently in S5.
The boys, all 16, are being given an insight into the construction industry by Balfour Beatty, the main contractors for the replacement school project.
While the rest of their year group are busy on class work only a stone's-throw away, Jake, Craig and Rowan have been getting to grips with plans and drawings for their new school.
They have also been gaining experience at the sharp end of the contract by observing and learning about the various aspects of the construction process, including scaffolding, steelwork, concrete pouring, roofing, pipe fitting, fire proofing, bricklaying and health and safety.
Read more and sign up for the latest news from our newsdesk.
Rate this Page