Menu
Mental Health Awareness Follow up

A few weeks ago we carried out a workplace poll to find out your thoughts about mental health, and we would like to share the results with you.
95% would support a colleague if they wanted to talk to them about their mental health.
63% know what support is available for mental health
56% feel comfortable talking about mental health in the workplace
It is encouraging to note that more than nine in ten of you would support a colleague if they wanted to speak about their mental health, a positive reflection on our workforce. Despite the willingness to help, only half of you said you would feel comfortable talking about mental health. There may be a culture of fear and silence around mental health, not knowing what to say or being afraid of saying the wrong thing. What is important is that we open up the issue of mental health and encourage conversations.
We all have mental health, just as we have physical health, and it's important that we take the time to look after it. There are lots of things we can do every day to support our wellbeing. You have told us that you look after your mental health by: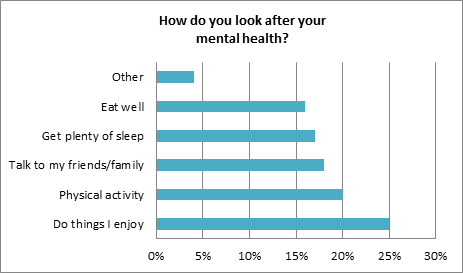 These are not national statistics, but statistics personal to you and your colleagues within Moray Council. Changing the culture around mental health benefits everyone. Even if you have never experienced a mental health problem, all our lives are full of ups and down. If you reach a point where your mental health is suffering, how much better would it be to have an open, friendly workplace where you feel safe to speak about how you feel?
As an employer we take mental health seriously, and have a range of resources available to support you and your colleagues:
Wider resources out with the council also include:
So make sure you keep these links to hand, should you need to make reference to them in the future. Let's feel free to talk about our good mental health, our bad mental health and everything in between. Let's be more aware, look out for our colleagues and offer a 'listening ear' when needed.
Rate this Page