Menu
Social Events - Follow up

As an employee, you play a key role in enabling services to be delivered effectively, whilst contributing towards making Moray Council an even better place to work. The Workforce Culture team have been working closely with colleagues over the years to create a more positive culture, providing direction and support to enable you to make a difference in your own workplace.  We want you to feel recognised and valued, developing positive relationships with your colleagues. Social activities can play a part in this, with social interaction in the workplace contributing towards improving working relationships, motivation and engagement.
So far, we have participated in Mental Health Awareness Week and will be starting to make arrangements for our next event which is the MacMillan Coffee Morning. A few weeks ago, we set up a poll asking you what you would like our last event of the year to be, you said:
What workplace organised social event you would like to participate in?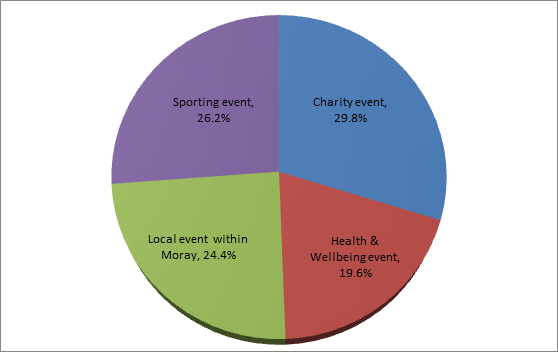 The results show that the majority of you would like to participate in a charity event. This type of event will allow us to have some fun interacting with each other, whilst raising money for a worthwhile cause. 
But remember, you don't have to wait until later in the year to participate in a social event.  We are still encouraging you to identify which social events you want to participate in within your service and take responsibility to actually make it happen. It may be that you have a particular charity close to your heart and would like to raise money to support them, or it may be that you would like to improve your health and wellbeing and have set a goal of running a 5k as a team. It is up to you to! Employees within Ashgrove Depot have already done this through various activities such as sweepstakes, cycling challenges and dress down days. So get thinking about how your service can get involved, ask your manager for support and start planning your event!
Rate this Page