Responding to Aggression and Violence
This half day course will equip you skills and techniques for responding constructively to aggression and potential or actual violence in the workplace.
Who should attend?
Customer-facing staff who have experienced or might experience aggressive or potentially violent customers or visitors.
2020 Dates Available
18 March
2 September
Please note we may need to postpone this course should there be insufficient numbers to make it viable.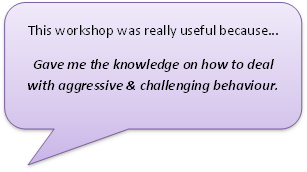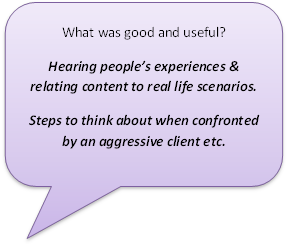 What will it cover?
On completion of the session you will be able to:
Describe personal and situational factors which can cause, trigger or exacerbate incidents
Apply measures that can reduce likelihood of incidents
Be alert to early warning indicators
React assertively when faced with challenging behaviour
Apply calming and de-escalation techniques
Apply Moray Council's policies and procedures
While the course touches briefly on some legal issues, it obviously cannot authoritatively cover all relevant law. The course does NOT cover breakaway, self-defence, arrest or restraint techniques.
Further courses to consider
Rate this Page