North Coast 500 Walk Challenge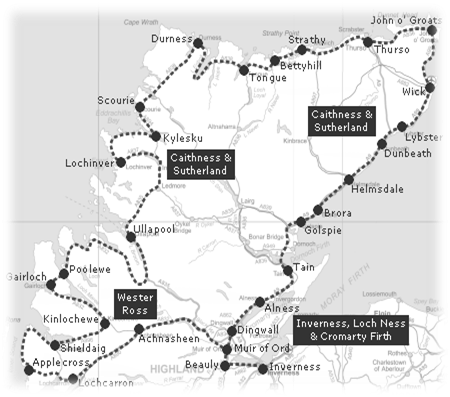 ...and the totals are in!
Well done to The Proclaimers who marched across the finish line first and overall covered a very impressive 2,586,585 steps - the equivalent of 1,293 miles!  
Both The Proclaimers and second place 3 A's and a K managed to storm round the route not only once, but twice (and a bit!).

Nearly all teams made it round the scenic route and those who didn't were not far away. Well done everyone, great effort from all involved.  It's good to see the motivation levels so high when the evenings are dark and weather not as favourable.
...and here are our winners picking up their prize and well deservedly putting their feet up!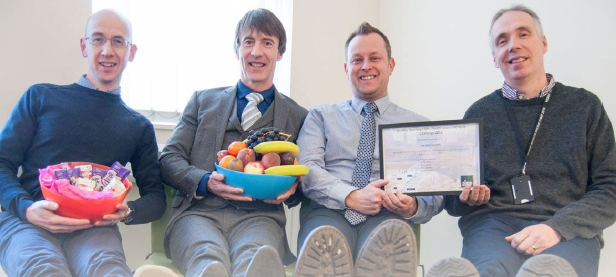 | | | | | | |
| --- | --- | --- | --- | --- | --- |
| Team name | Week 1 | Week 2 | Week 3 | Week 4 | TOTAL |
| The Proclaimers | 549,724 | 716,910 | 603,846 | 716,105 | 2,586,585 |
| 23.92.30.78 | 352,507 | 392,544 | 345,693 | 374,699 | 1,465,443 |
| Sole Mates | 330,493 | 351,523 | 327,295 | 354,389 | 1,363,700 |
| Step Exec | 371,648 | 354,006 | 364,033 | 326,740 | 1,416,427 |
| Blazing Fitbits | 348,797 | 346,339 | 363,499 | 400,358 | 1,459,053 |
| Three As and a K | 505,588 | 499,567 | 586,393 | 557,219 | 2,148,767 |
| Swamp Donkey and the Spiderpigs | 178,479 | 213,213 | 207,695 | 232,472 | 831,859 |
| The Hubetts | 429,302 | 403,784 | 414,541 | 448,892 | 1,696,519 |
| Step up to the Plate | 288,138 | 310,219 | 387,058 | 309,593 | 1,295,008 |
| The Coasters | 360,523 | 352,429 | 315,811 | 303,179 | 1,331,942 |
| Koast and the Country Super Striders | 335,805 | 296,217 | 311,990 | 298,695 | 1,242,707 |
| Are we there yet? | 230,293 | 240,401 | 294,504 | 249,949 | 1,015,147 |
| Mandy's Mad Marchers | 279,416 | 257,798 | 276,997 | 270,859 | 1,085,070 |
| The Forres Fab Four | 215,087 | 248,966 | 261,352 | 250,788 | 976,193 |
| The Pro-Claimers | 367,040 | 379,178 | 359,751 | 372,726 | 1,478,695 |
| Keith Wanders | 249,353 | 269,429 | 245,138 | 308,582 | 1,072,502 |
Rate this Page