Corporate Management Team
Roddy Burns, Chief Executive

Roddy Burns, Chief Executive
Remit:
As Head of Paid Services and Chief Executive of the Moray Council, Roddy is ultimately responsible for providing leadership, motivation and strategic direction for the council's staff and co-ordinating policy development and overseeing general management through the Corporate Management Team.
Working closely with colleagues in the Corporate Management Team and elected members of the council, his role is to ensure that the council's corporate objectives are supported across the council by its various departments and their staff. To deliver the council's vision for Moray to be a place where people choose to live, learn, work and enjoy.
It is Roddy's responsibility to ensure that strategic decisions are implemented and to monitor their implementation and to encourage an ethos of continuous improvement in all areas of activity within the council.
One of his key roles is to gear the work of the Council to the UK Government and the Scottish Government.
The functions of the Chief Executive's Office include community planning, best value, governance, corporate planning, public performance reporting, community development and engagement, equalities, emergency planning and internal and external communications and public relations.
Other responsibilities are civic ceremonies.
As Chief Executive, his commitments within the Council include attendance at all meetings of the Full Council held on an eight week cycle, meetings of the Policy and Resources Committee held monthly, meetings of the audit and scrutiny committee and of the Moray Community Planning Partnership Board also held every eight weeks.
The Corporate Plan Steering Group, comprising corporate directors, senior members of the administration group and myself also meets on a regular basis. Roddy also meets with the other political groups represented in the Council.
Roddy's regular external commitments include meetings of Scottish local authority Chief Executives, the Convention of Scottish Local Authorities, the Convention of the Highlands and Islands, strategic co-ordinating groups for emergency planning.
Responsible for:
Reports to:
Pamela Dudek, Chief Officer (MIJB)
Pamela Dudek, Chief Officer (MIJB)
Remit:
Overall Responsibility for services delegated by the NHS and Moray Council to Moray Integration Joint Board (MIJB); Social Care Commissioning, Planning & Policy; Community Hospitals; Children & Families Social Work Services (*); Child Protection Services (*); Looked After Children (*); Children's Health Services (*); Integrated Adult Health & Social Care Services; Adult Community Mental Health, Support & Protection; Mental Health & Addiction Services; Residential, Homecare & Day Care Services; Criminal Justice Services / Community Justice Authority; Primary Care; Dr Gray's Hospital;  Clinical & Professional Services; IJB Finance & Performance; Asylum Seekers & Refugees; Corporate Transformation & Modernisation;
(* future structure for Children's Services. Head of ICS reports to CE meantime)
Responsible for:
Chief Financial Officer / Head of Performance, Head of Services (x2), Head of Transformation, Head of ICS(SW), Hospital Manager, Clinical & Professional Leadership
Reports to:
Chief Executive
Rhona Gunn, Depute Chief Exec (Economy, Environment & Finance)

Rhona Gunn, Depute Chief Exec (Economy, Environment & Finance)
Remit:
Housing Services; Corporate Property Services; Property Design & Construction Services; Building Services DLO; Economic Development; Planning; Social Enterprise / third Sector Development; Development Control; Related Regulatory Services; Resilience / Civil Contingencies; Transportation and Public Roads; Civil Engineering Consultancy; Fleet Management; Waste Strategy & Management; Harbours; Flood Alleviation & Coastal Protection; Lands, Parks & Cemeteries; Janitorial & Building Cleaning Services; Catering; Commercialisation; Corporate Finance & Budgeting; Procurement; PAMA; Corporate Transformation & Modernisation;
Responsible for:
Head of Housing & Property Services, Head of Economic Growth & Development, Head of Environmental Services & Commercial Services,Chief Financial Officer (S95 Officer)
Reports to:
Chief Executive
Denise Whitworth, Depute Chief Exec. (Education, Communities & OD)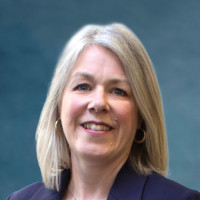 Denise Whitworth, Depute Chief Exec. (Education, Communities & OD)
Remit:
Secondary Schools; Primary Schools; SEN Schools; Early Years Establishments; Curriculum Development & Attainment; Community Learning & Development; Lifelong Learning; Sports & Leisure; Libraries & Culture; Legal Services & Democratic Services; Customer Services; Internal Audit; Community Planning & Engagement; Local Outcome Improvement Plan (LOIP); Corporate Policy & Performance; Organisational Development; Human Resources & ICT; Business Systems & Processes; Corporate Communications; Additional Support Needs (ASN); Corporate Transformation & Modernisation (Project Co-ordination);
Responsible for:
Head of Education (Chief Education Officer), Head of Education (Resources & Communities), Head of HR, ICT & Organisational Development,  Head of Governance, Strategy & Performance (Monitoring Officer), Chief Officer(School Estate), Head of Transformation, Head of ICS (ASN)
Reports to:
Chief Executive