Working Families Awards
26/03/2018
Moray Council – 2018 Scottish Top Employers for Working Families Awards Finalist
It is always nice to receive recognition – but when the recognition is in the form of a finalist for the Family Friendly Working Scotland Awards within the best Public Sector category, it makes it even more of an achievement.
Now in their fourth year, the Scottish Top Employers for Working Families Awards put the spotlight on organisations in Scotland that recognise the importance of family friendly and flexible working. They recognise employers that celebrate forward-thinking and have developed a great flexible, family-friendly working culture. 
The awards ceremony was held on 22nd March where the winner for the Public Sector category was selected as the Independent Living Fund (ILF) – a huge congratulations to them.
But it's not all doom and gloom for us, to be chosen as a finalist is an achievement in itself demonstrating that we are one of the top Scottish Employers in this field - recognising the strong framework we have developed to support effective service delivery, enhance the working environment and support work–life balance.
Are you familiar with the flexible options available? If not, why not have a look!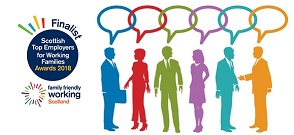 Relevant to non-teaching staff
Flexible Working Policy
Flexible Working Application Form
Job sharing policy
Holiday Buy Back guidance and application
Relevant to teaching staff
Relevant to managers
Rate this Page